The National Autistic Taskforce was established in January 2018 to give autistic adults a stronger voice in the decisions and directions of our own lives – especially those with highest support needs and, often, least autonomy. We draw on deep knowledge of rights and obligations, already enshrined in law but not reliably respected in practice, to increase autonomy in autistic lives. We seek to ensure autistic voices are included alongside those of families, policy makers and professionals. We seek to draw on the collective knowledge and experience of autistic adults to inform and improve care and support, especially for autistic adults whose own voices are rarely heard.
The National Autistic Taskforce is an innovative autistic-run body that aims to improve the chances for autistic people to have control over their own lives. Our role is to challenge government and local communities to deliver the support, services and opportunities that autistic people are entitled to. We have a particular focus on issues which are of most relevance and importance to 'The Other Half': those autistic people who are less able to directly advocate on their own behalf.
In April 2019, we published An Independent Guide to Quality Care for Autistic People, the first independent and autistic-authored guide to what good quality care and support looks like, for autistic people of all ages and right across the autistic spectrum.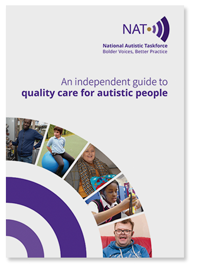 An independent guide to quality care for autistic people


Read Online

EasyRead Version