An independent guide to quality care for autistic people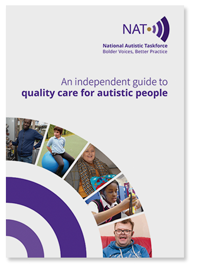 The NAT Guide was produced in 2019 to create a comprehensive guide to care for autistic people. The guide was authored entirely by autistic people with extensive collective knowledge and experience of social care provision to autistic people. It is intended to apply to the whole autism spectrum and to both children and adults.
This guide has been written primarily with Care Providers, Care Commissioners and Inspectorates as the target readership. Readers from other care contexts are encouraged to creatively consider how these recommendations can be implemented in their unique circumstances.
The guide covers all care settings, including:
Conventional housing options, whether alone, with others or with family members
Those who are homeless
Shared lives and similar arrangements
Supported living
Residential care environments
Institutional environments
Read the NAT Guide

PDF Version


Read Online


EasyRead PDF Version
In other languages
Portuguese